Visit Us
The UCLA Meteorite Gallery is temporarily closed until further notice. Please direct any questions to meteorites@ucla.edu .
Location
The Meteorite Gallery is located in room 3697 of the Geology Building on the UCLA campus.
595 Charles E. Young Dr.
East, Los Angeles, CA, 90095.
Hours
Open Monday through Friday, 9:00 AM to 4:00PM (Except federal holidays)
Open Sunday, 1:00 PM to 4:00 PM, with one or more docents present.
Admission
Admission is free.
Directions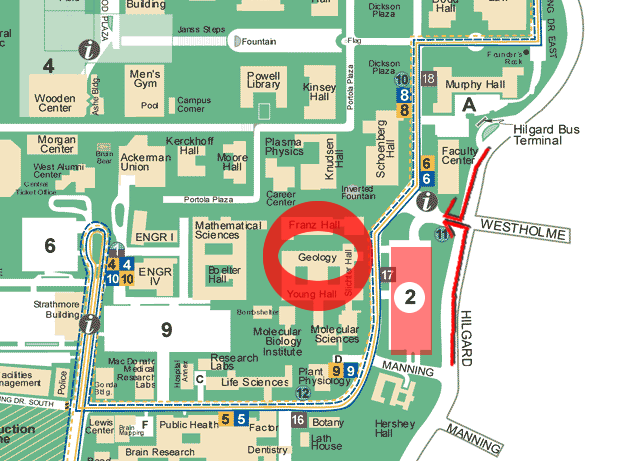 As shown on the above map, we are located on the east side of the UCLA campus. It is difficult to find free parking but weekend and evening rates in pay-by-space areas in Lot 2 (the rose rectangle just east of the Geology Building) are very reasonable: $3 for one hour, $4 for two hours, and $8 for one day (rates on work days are 50% higher). You can pay with a credit card or dollar bills. there are several entrances to Lot 2; the one for pay-by-space is shown on the map just west of the number 2 in a white circle.
You probably won't need to visit it, but there is a parking information booth just to your right when you enter the campus at Westholme.
Click here for our location on google maps.
Click here for additional maps of the UCLA campus, driving directions, and public transportation.